THE NEW ORBEA ORCA
January 04, 2022
Firstly, ORCA is a mix of 'ORbea' and 'CArbon'. Not the Killer Whale. Simple, I know, and I agree, the latter is cooler.
In this ORCA article, I'm going to help explain why Orbea's Orca models are one the best road bikes in the business.
There's a lot to cover, so let's gohttps://www.youtube.com/embed/x4s-yagHhpY?start=0
THE PHILOSOPHY
For over 100 years, Orbea has been making bikes from the Basque Country.
To understand Orbea's design, you first have to understand their philosophy and approach to the design. And it can be summarised into four words.
Light. Fast. Comfortable. Beautiful.
For Orbea's design team, it's not about making the lightest, or the fastest or the most comfortable or the most beautiful and practical. It's a blend of every one of these important characteristics.
NOW THE TECH
Orbea partners with Mondragon University (Basque Country) to develop their carbon frames. They have access to the whole Research and Development area to test new profiles, prototypes and ideas.
The best carbon frame in the range is called the OMX – both in road and mountain.
The best materials and the best manufacturing methods are employed to deliver a performance-drive machine.https://www.youtube.com/embed/BcN7UTcqIgg?start=0
But that's all marketing BS to you – unless we do some comparisons.
So, lets compare the OMX to the Giant TCR (and Defy) Advanced and Advanced SL. Because the carbon used here is representative of what most mainstream brands use (Trek, Scott…).
Giant's Advanced-grade carbon frames use a T700 carbon architecture. This according to Toray (the source) is a Standard-Modulus carbon. It has a stiffness of 240GPa.
Let's go up a step.
Giant's best grade of carbon is called Advanced SL. This is now classified as a Intermediate-Modulus and has a stiffness of 294Gpa – roughly a 22.5% increase over the Standard-Modulus fibres.
The Orca OMX carbon frame has a stiffness of 588Gpa – considered High-Modulus by Toray. And a 100% increase in stiffness compared to the Intermediate-Modulus weave.
Even though this is a simplified view of carbon frame construction, it highlights the differences at a macro level. And the drive to use the best materials.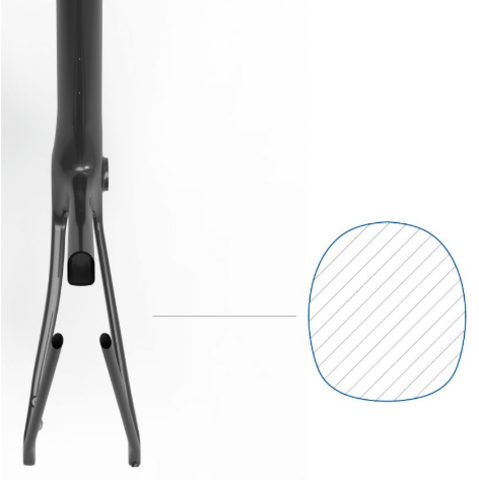 OMX TUBE SHAPE
OMX frames are designed for stiffness and aerodynamics.
The combination of ovalised and slightly flattened dowtube, seat tube and chain stay areas deliver 10% less drag (versus the previous version).
OMX frame weight is 833 grams (size 53).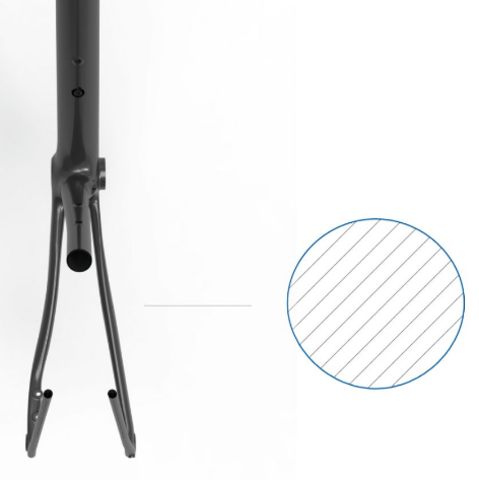 OMR TUBE SHAPE
These shapes have specifically been constructed for riders searching for comfort, a smooth ride feel and efficiency.
The carbon architecture on the OMR frame delivers 10% higher vibration absorption than the OMX frame.
Note: At first glance, the visual differences between the OMX and OMR are not that apparent.
A quick way to tell is the seat post.
The OMR Endurance frames will have a much thinner post (27.2mm) to absorb vibrations.
OMR frame weight is 1,030 grams (size 53).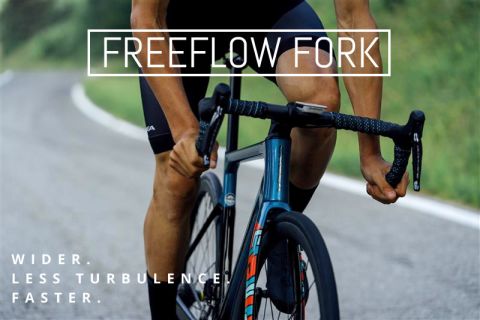 Looking at the Orca OMX head on, you'll notice the fork bows out. This wider fork stance is to reduce the pressure (and therefore drag).
Today's wider tyres and rims create more drag and chaotic air behind the fork.
The Freeflow fork allows the air to pass through with less turbulence.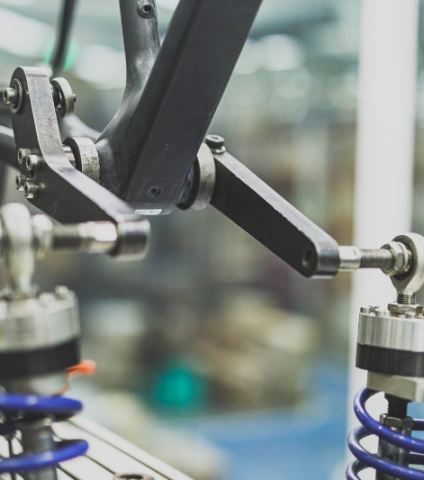 The headtube, downtube, bottom bracket and chain stays are responsible for ensuring the frame doesn't flex.
The ORCA has 95Nm-105Nm of torsion stiffness – one of the highest in its class.
More stiffness equals less flex, and more power to road.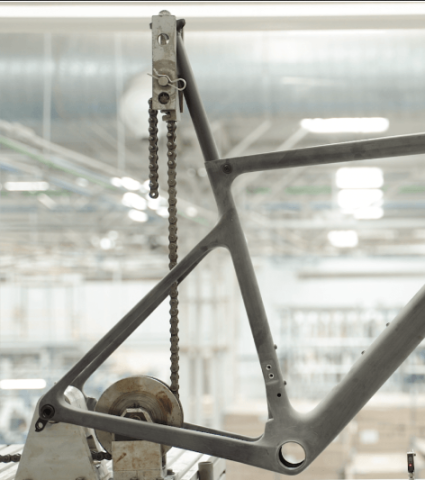 Stiffness is important.
But it needs to be balanced by a smooth ride. Or else, you'll fatigue faster. Not good.
Dropped seat stays do just that. A critical design element that allows the rear of the ORCA to flex and smooth out bumps.
You'll feel like you're riding on Cloud 9 in no time.
ERGONOMICS IS KING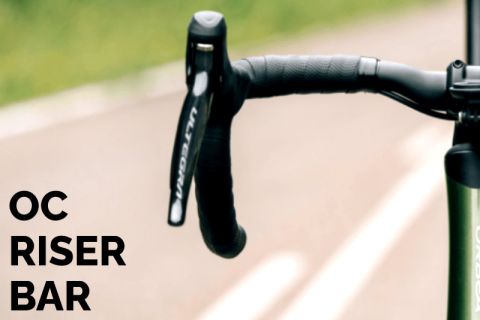 OMR ERGONOMICS
The Orca OMR the more comfortable of the two options.
Not only because the physical tube profiles deliver more comfort, it's how you sit on the Orca OMR that makes it different too.
For a size 53 (medium), the Orca OMR is 7mm higher at the front and 3mm shorter than the Orca OMX.
But:
If you decide to spec the Orbea OMR with the new OC Rise handlebar, this makes the delta more pronounced.
It's now 22mm higher and 13mm shorter.
So if you're new to riding or have poor flexibility, the OC Rise bar will be the way to go.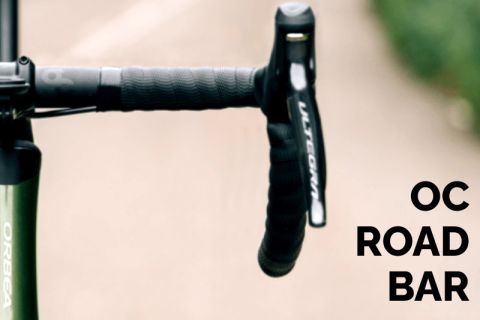 OMX ERGONOMICS
The Orca OMX geometry will suit riders who are comfortable riding low and aggressively.
Or those in search of better aerodynamics and speed.
AND COMFORT IS QUEEN
The Orca OMX (the racier version) frame has clearance for tyres up to 32mm. Most race bikes tend to go up to 30mm. This further highlights Orbea's need for their bikes to be as versatile as possible.
The Orca OMR Endurance has clearance for tyres up to 35mm.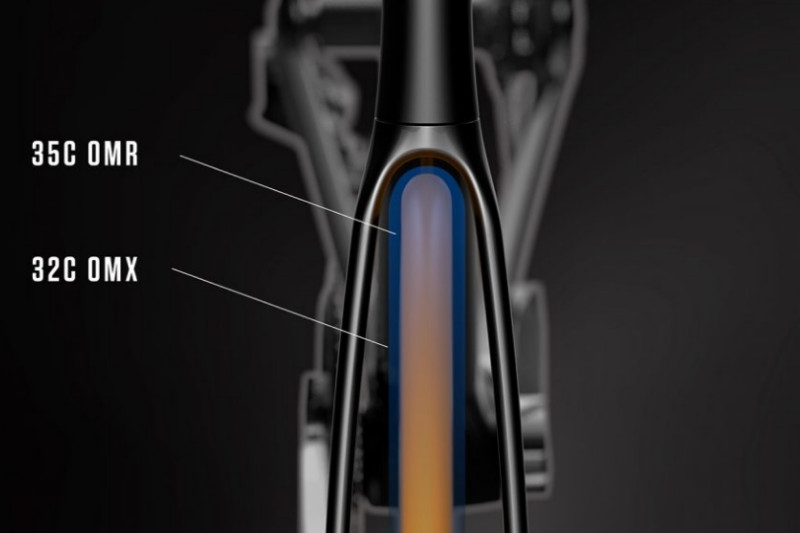 Why wider though? What's the point? And why is this important?
Tyres (and their width) make a huge impact on comfort.
On the road, your tyres are impacted thousands of times. Impacts deflect the tyre up and down, and side to side.
This saps away forward momentum.
And more importantly, your body has to work harder to overcome these tiny impacts. This mis-uses energy that could be better spent in propelling you forward. This energy expenditure is not a passive process.
Wider tyres absorb more of these impacts so that the muscles can focus on powering you forward. The tyre also glides over uneven road surfaces rather than bouncing over them.
Another area where comfort is attain is through the seat post.